I have to admit, the conspiracy theory described in this Popular Mechanics* article is news to me. Turn your head and squint a bit, though, and you can see it working as part of a Marvel Comics* story or even as an explanation for the Artomiques in the Wild Stars* universe. It certainly reminds this author of an episode in the 1990s Amazing Spider-Man* series!
Click the link to learn more, readers: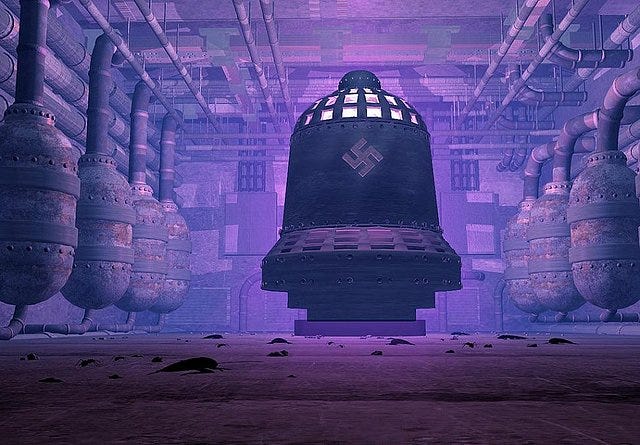 This Conspiracy Says Hitler Had a Secret Anti-Gravity UFO—and the U.S. Stole It
Watch this deep dive into the wild legend of "Die Glocke."
JUN 1, 2021
A new video takes a look at the conspiracy of "Die Glocke," a purported Nazi Germany UFO/time machine hybrid.
According to legend, Die Glocke was one of the "wonder weapons" that German dictator Adolf Hitler developed in hopes to reverse the tide of World War II.
While any actual proof of Die Glocke is spotty at best, UFO enthusiasts have tried to link the machine to a mysterious crash in the 1960s in Kecksburg, Pennsylvania.
Did Nazi scientists, eager to devise a weapon that could throw back advancing Allied armies, create a time-traveling UFO to win World War II? Almost certainly not. Nevertheless, the legend of "Die Glocke" ("The Bell") persists in conspiracy and UFO circles.
A new video from military historian Mark Felton, included below, explores the bell-shaped device that Adolf Hitler's Schutzstaffel (SS) paramilitary organization purportedly developed. However, sci-fi writers and hoaxers may have actually concocted the machine, plying the postwar reputation of Nazi scientists being capable of almost any technological feat.
Even though the Nazis lost World War II, they emerged from the war with an almost mythical reputation for high-tech weapons. Nazi tanks were often technically superior to Allied tanks; the Luftwaffe flew fighter jets in combat before the Allies did; and the V (for Vengeance) series of terror weapons, including the V-1 cruise missile and V-2 ballistic missile, made for terrifying, though strategically questionable, weapons.
*These are Amazon affiliate links. When you purchase something through them, this author receives a commission from Amazon at no extra charge to you, the buyer.
If you liked this article, friend Caroline Furlong on Facebook or follow her here at www.carolinefurlong.wordpress.com. Her stories have been published in Cirsova's Summer Special and Unbound III: Goodbye, Earth, while her poetry appeared in Organic Ink, Vol. 2. She has also had stories published in Planetary Anthologies Luna, Uranus, and Sol. Another story was released in Cirsova Magazine's Summer Issue in 2020, and she recently had a story published in Storyhack Magazine's 7th Issue and Cirsova Magazine's 2021 Summer Issue. Order them today!
Like Caroline's content? Then consider buying her a coffee on Ko-fi to let her know you appreciate her work. 😉