I am not certain that I can call her the first female American soldier, readers. She is among the most famous, however. Only Molly Pitcher compares and "Molly Pitcher" was not her real name. Rather it was an affectionate name given to at least two different women who took part in the War for Independence, if memory serves.
Click the link to learn more about Deborah Sampson and her service in the Continental Army. This is one lady who needs to be remembered!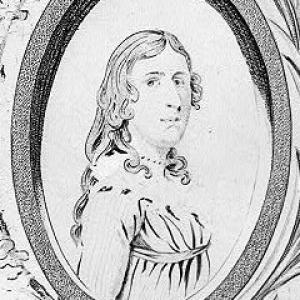 Deborah Sampson
1760-1827
Edited by Debra Michals, PhD | 2015
Deborah Sampson became a hero of the American Revolution when she disguised herself as a man and joined the Patriot forces. She was the only woman to earn a full military pension for participation in the Revolutionary army.
Born on December 17, 1760 in Plympton, Massachusetts near Plymouth, Sampson was one of seven children to Jonathan Sampson Jr. and Deborah (Bradford) Sampson. Both were descendants of preeminent Pilgrims: Jonathan of Myles Standish and Priscilla Alden; his wife, the great granddaughter of Massachusetts Governor William Bradford. Still, the Sampsons struggled financially and, after Jonathan failed to return from a sea voyage, his impoverished wife was forced to place her children in different households. Five years later, at age 10, young Deborah was bound out as an indentured servant to Deacon Benjamin Thomas, a farmer in Middleborough with a large family. At age 18, with her indenture completed, Sampson, who was self-educated, worked as a teacher during summer sessions in 1779 and 1780 and as a weaver in winter.