I have a new anthology live on Amazon, readers! Those of you who purchased Cirsova Magazine's 2020 Summer Issue will recognize "Death's Shadow," of course, but the other five stories have never been published before. Now available in ebook* and paperback*, I give you The Guardian Cycle, Vol.1: In Dreams and Other Stories: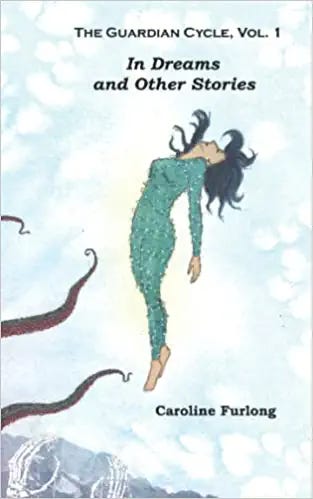 A man whose debts must be paid by vengeance. A woman desperate to save her husband. A grieving father finding a young enemy soldier on his veritable doorstep…
These fantasy and soft sci-fi stories wonder whether or not heroes need families. Are we not told that families slow the hero down? Is it not typically implied that they get in the way of the adventure? Are they a burden, or truly the greatest strength from which the hero and those he loves can draw?
Six tales in this collection center on family, faith, and self-sacrificing love as men and women fight for the ones whom they hold most dear. Whether the enemy is inner turmoil, a nightmare, or a demon really does not matter. If the threat seeks to harm a member of the family, it is going to pay dearly.
If you signed up for my newsletter, you received this alert previously, so thank you in advance for signing up! Along with "Death's Shadow," this volume contains:
Memories of Mars
The Fish 'n' Wheel
Bullroarer
In Dreams…
Guardian, Part 1: Discovery
Both "Memories of Mars" and "Bullroarer" are short short stories that have never been seen before. If you liked "Lupus One" – the cover story for Cirsova's 2021 Issue – then you will like "Bullroarer." It is a mecha tale, too, and one I was very happy to write!
"The Fish 'n' Wheel" is a "local color" story that took a while to percolate. I had intended to write it for some time, but the voice and type of tale would not come through until I realized it had to be longer than I initially intended and the voice ought to be familiar with the locality of the setting. At this point, I wonder why I bother with word limits, too; I'm like a driver on the Audubon when I start a story. The word limit may as well be a suggestion!
Nothing demonstrates this better than both Dreams and Guardian. Dreams exceeded the initial word limit – whatever it was, I can no longer remember at the moment – and became an eight chapter novella. Yes, the story at the center of this collection is eight chapters long. You will probably read them faster than I wrote them, so do not fret about it, readers.
Guardian, for which this series is named, has grown exponentially. Initially a short story meant to introduce the hero for a future series of interlocked adventures, it has several parts to it. I like the places the tale is taking me, and I hope you do as well, readers!
The sequel anthology is in the works, and this is where I am going to give a shout-out to my cover artist. Vixen Art did a fantastic job with the cover and will be the artist for the sequel collections as well. Along with The Guardian Cycle, I have other projects which will be forthcoming, but those will take a little more editing (yaaaay…! :flops tiredly: ).
Pray for me on this journey of discovery, readers, and please enjoy the stories! More are on the horizon. It is just a matter of time to get them lined up – and sailing on their own!
See you in the next anthology, readers!
Note: Links marked with an asterisk are Amazon Affiliate links. When you purchase something through them, I receive a commission from Amazon at no extra charge to you. Feel free to shop for more when you check out The Guardian Cycle, Vol. 1 today!