Granted, the story below wasn't what Indiana Jones had in mind when he uttered that line in The Last Crusade*. Looking at the article, though, what else can one say? You would be hard-pressed to find a piece of art like this anywhere else in the world!
Click the link to learn more, readers!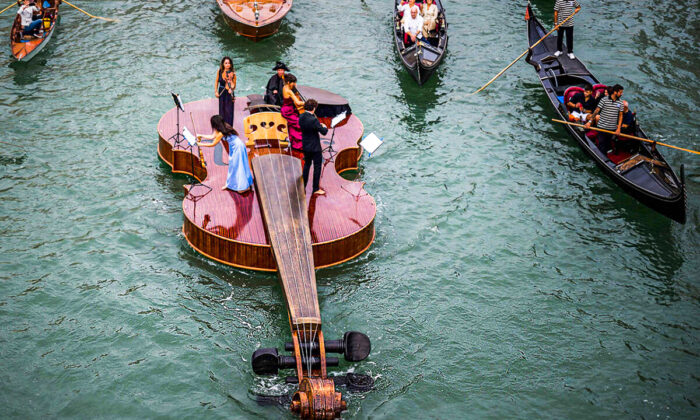 Sculptor in Venice Creates Giant 12-Meter-Long Violin That Floats Through Grand Canal
By Michael Wing
November 11, 2021 Updated: November 16, 2021
Few have been hit harder during the pandemic than those gifted musicians who perform onstage for a living—using fine instruments and honed skills to soothe the human soul with their melodies.
In one of the great cultural centers of the world—the city of Venice, located in northeastern Italy—one artist, Livio De Marchi (known for his boat-like wooden sculptures that float through the canals of the waterlogged city), conceived in November 2020 a floating artwork dedicated to music and musicians in the form of a colossal violin.
*These are Amazon affiliate links. When you purchase something through them, this author receives a commission from Amazon at no extra charge to you, the buyer.
If you liked this article, friend Caroline Furlong on Facebook or follow her here at www.carolinefurlong.wordpress.com. Her stories have been published in Cirsova's Summer Special and Unbound III: Goodbye, Earth, while her poetry appeared in Organic Ink, Vol. 2. She has also had stories published in Planetary Anthologies Luna, Uranus, and Sol. Another story was released in Cirsova Magazine's Summer Issue in 2020, and she recently had a story published in Storyhack Magazine's 7th Issue and Cirsova Magazine's 2021 Summer Issue. Order them today!
Like Caroline's content? Then consider buying her a coffee on Ko-fi to let her know you appreciate her work. 😉