…the more they stay the same. In the original Star Trek* episode "The Ultimate Computer," Captain Kirk recites a line from John Masefield's poem "Sea-Fever": All I ask is a tall ship and a star to steer her by. What was good enough for the captain of a Constellation-class starship is good enough for modern sea captains as well, whether they be in command of merchantmen, Naval vessels, or Coast Guard ships.
Read this article from Popular Mechanics* to learn more, readers: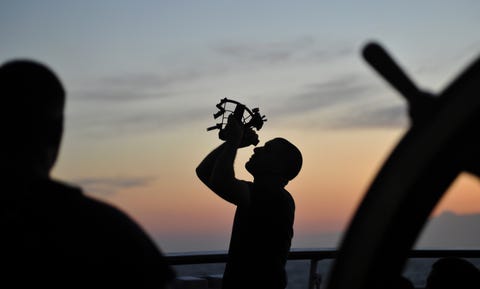 The U.S. Navy's New Unhackable GPS Alternative: The Stars
GPS is a world-changing technology. It's also incredibly fragile, easily spoofable, and consistently hackable. That's why the U.S. Navy and Marine Corps are looking to the stars for a navigational Plan B.
APR 25, 2021
Twenty-five years ago, in 1995, the U.S. Air Force reached a milestone: Its satellite Global Positioning System became fully operational. Today, GPS directs our world, from supertankers to pizza deliveries. But before the creation of this modern navigational marvel, humans looked to the heavens to find their way.
For centuries, using a sextant, a sailor could mark a ship's location by making a few calculations to determine a star's position relative to the horizon. Now a high-tech version of this maritime tradition is finding its way back into practice.
GPS is indispensable these days—but it's still incredibly fragile. It can be spoofed with a fake satellite signal, hacked by an adversary, or simply destroyed. Spoofing, hacking, or destroying the stars? Not happening.
GPS may have revolutionized the way we navigate, but for years celestial navigation has been undergoing a quiet revolution of its own.
*These are Amazon affiliate links. When you purchase something through them, this author receives a commission from Amazon at no extra charge to you, the buyer.
If you liked this article, friend Caroline Furlong on Facebook or follow her here at www.carolinefurlong.wordpress.com. Her stories have been published in Cirsova's Summer Special and Unbound III: Goodbye, Earth, while her poetry appeared in Organic Ink, Vol. 2. She has also had stories published in Planetary Anthologies Luna, Uranus, and Sol. Another story was released in Cirsova Magazine's Summer Issue in 2020, and she recently had a story published in Storyhack Magazine's 7th Issue and Cirsova Magazine's 2021 Summer Issue. Order them today!
Like Caroline's content? Then consider buying her a coffee on Ko-fi to let her know you appreciate her work. 😉