No, the title for this post was not entirely my idea, readers. And while it is a reference to the popular 1960s' anime series Speed Racer*, that allusion came straight from Lockheed, the creator of the drone described in the article linked herein. It is, apparently, quite fast!
However, looking at the photograph makes me think less of the famous Mach 5 and more of the bird drone Speed could deploy from the hood of his excellent race car. If you have ever seen an episode of the series that featured the dove-style robot, you may understand the reference. At the very least, the description of Lockheed's prototype implies it sets off from a larger plane in a manner somewhat reminiscent of that little robot's departure from the car!
Click the link to learn more about this fascinating piece of equipment, readers: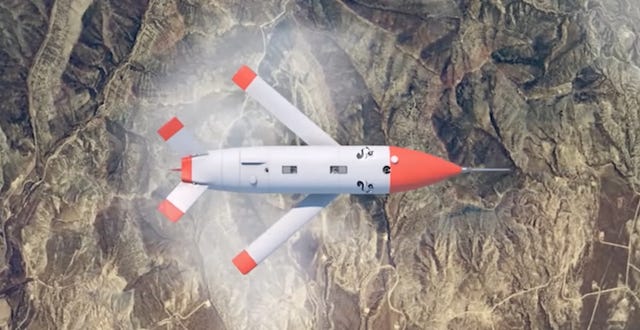 Skunk Works Reveals Its Secret 'Speed Racer' Aircraft
It's either a cruise missile-shaped drone, or a drone-shaped cruise missile.
MAR 2, 2021
LOCKHEED MARTIN
A new video from Lockheed Martin includes an exciting Easter egg: the first real glimpse of a recently teased secret aircraft.
The star is Speed Racer, an uncrewed aerial vehicle that Lockheed's legendary Skunk Works division built. Skunk Works is responsible for some of the most famous aircraft of all time, including the SR-71 Blackbird and U-2 Dragon Lady spy planes. Will Speed Racer someday join their ranks?
Stephen Trimble, the defense editor at Aviation Week & Space Technology, first spotted the aircraft in the Lockheed video, which shows an orange and yellow drone fall clear of a Beech 1900 (C-12 Huron in U.S. military service), unfold a pair of wings, and streak away. The drone features a large, upright skunk, which is the famous trademark symbol of Skunk Works.
*This is an Amazon affiliate link. When you purchase something through it, this author receives a commission from Amazon at no extra charge to you, the buyer.
If you liked this article, friend Caroline Furlong on Facebook or follow her here at www.carolinefurlong.wordpress.com. Her stories have been published in Cirsova's Summer Special and Unbound III: Goodbye, Earth, while her poetry appeared in Organic Ink, Vol. 2. She has also had stories published in Planetary Anthologies Luna, Uranus, and Sol. Another story was released in Cirsova Magazine's Summer Issue in 2020, and she recently had a story published in Storyhack Magazine's 7th Issue and Cirsova Magazine's 2021 Summer Issue. Order them today!
Like Caroline's content? Then consider buying her a coffee on Ko-fi to let her know you appreciate her work. 😉