Players of Star Wars: Knights of the Old Republic* and authors who have water worlds in mind may both wish to take note of this story from Popular Mechanics.* The Maldives have conceived of a plan to build their very own floating city in a lagoon near the capital of Male in an attempt to create sustainable housing. The project is set to begin in 2022.
Click the link to learn more, readers!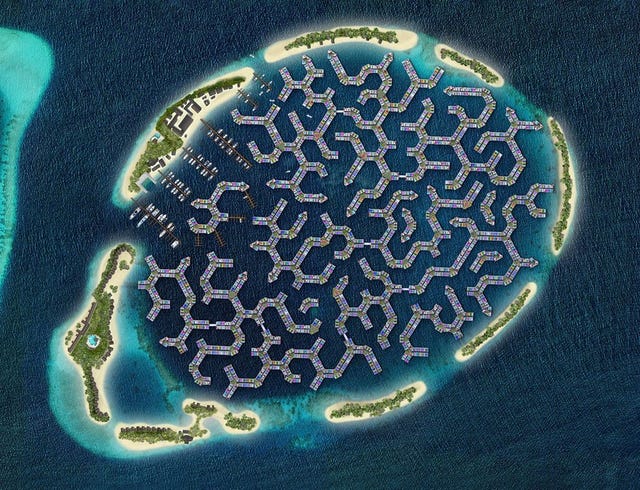 The World's First True Floating Island City Could Reimagine Survival
As the sea level rises, islands have to act fast—or else. This ambitious experiment may be the way forward.
APR 27, 2021
The Government of the Maldives revealed plans for the world's first true floating island city, which will begin construction in 2022.
Maldives Floating City (MFC) is made up of honeycomb-like hexagonal maze rows.
As MFC floats up top, island barriers around the lagoon will act as breakers below the city.
Last month, government officials in the island nation of the Maldives officially unveiled plans to build the first fully floating island city of its kind. Could the ambitious experiment be a blueprint for how we'll live in the future as climate change continues to raise the global sea level?
As "arguably the lowest-lying country in the world," according to NASA—the average elevation is just 3.3 feet above sea level—the Maldives, an island republic in the northern Indian Ocean, will soon have to rely on sustainable housing. In virtually any simulation of the near future, the over 1,000 individual islands that make up the Maldives will be some of the first to disappear below the rising sea level.
Enter the floating city, appropriately called Maldives Floating City (MFC), which will be built in a lagoon just minutes from Male, the capital of the Maldives. MFC's designers—the Netherlands-based Dutch Docklands, the global leader in floating infrastructure—say the floating city's shape, a series of honeycomb-like hexagonal maze rows, is supposed to resemble coral.
*These are Amazon affiliate links. When you purchase something through them, this author receives a commission from Amazon at no extra charge to you, the buyer.
If you liked this article, friend Caroline Furlong on Facebook or follow her here at www.carolinefurlong.wordpress.com. Her stories have been published in Cirsova's Summer Special and Unbound III: Goodbye, Earth, while her poetry appeared in Organic Ink, Vol. 2. She has also had stories published in Planetary Anthologies Luna, Uranus, and Sol. Another story was released in Cirsova Magazine's Summer Issue in 2020, and she recently had a story published in Storyhack Magazine's 7th Issue. Order them today!
Like Caroline's content? Then consider buying her a coffee on Ko-fi to let her know you appreciate her work. 😉