Anyone who has read Louis L'Amour's* novel of Alaska, Sitka*, will find this article especially interesting. Never one to shirk his historical research for his writing, Mr. L'Amour likely investigated the extant records of the Russians' battle with the Tlingit tribe to ensure that he placed the story and the tribe in the right position to meet his fictional hero.
If you are a history buff or just want to know more about Mr. L'Amour's Sitka, then click the link below, readers. The information will not disappoint!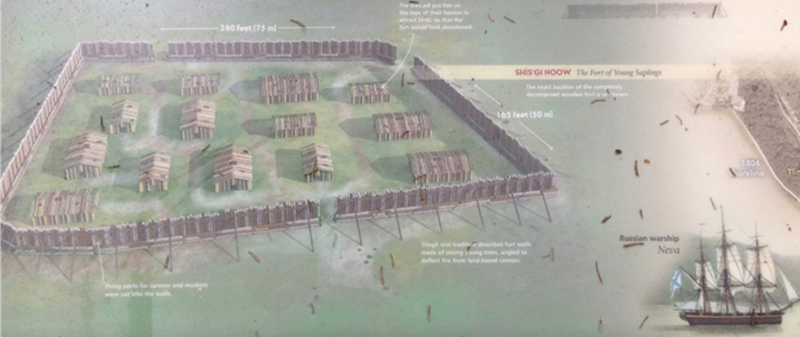 BE GONE, BEFORE WE TAUNT YOU A SECOND TIME! —
Lost Alaskan Indigenous fort rediscovered after 200 years
The Tlingit built the Sapling Fort in 1804 to repel a Russian naval attack.
KIONA N. SMITH – 2/5/2021
This interpretive sign at the presumed "fort clearing" includes a reconstruction of what the fort probably looked like in 1804.
In 1804, Tlingit warriors sheltered behind the walls of a wooden fort on a peninsula in southeastern Alaska, preparing to repel a Russian amphibious assault. An archaeological survey near the modern community of Sitka recently revealed the hidden outline of the now-legendary fort, whose exact location had been lost to history since shortly after the battle.
The coolest battle you never heard of
The Tlingit had already sent Russia packing once, in 1802, after three years of mounting tensions over the Russian-American Trading Company (a venture akin to the better-known British East India Company), which had a presence on what is now called Baranof Island. Because the Tlingit elders—especially a shaman named Stoonook—suspected that the Russian troops would soon be back in greater numbers, they organized construction of a fort at the mouth of the Kaasdaheen River to help defend the area against assault from the sea.
By 1804, the Tlingit had procured firearms, shot, gunpowder, and even cannons from American and British traders. They had also built a trapezoid-shaped palisade, 75 meters long and 30 meters wide, out of young spruce logs, which sheltered more than a dozen log buildings. The Tlingit dubbed it Shis'gi Noow—the Sapling Fort.
The Tlingit had built fortifications before; in 1799, the Russians set up their trading post practically in the shadow of a hilltop fortification called Noow Tlein, or Big Fort. But this time, Stoonook and his people had engineered their fort specifically to counter the threat of naval guns.
*These are Amazon affiliate links. When you purchase something through it, this author receives a commission from Amazon at no extra charge to you, the buyer.
If you liked this article, friend Caroline Furlong on Facebook or follow her here at www.carolinefurlong.wordpress.com. Her stories have been published in Cirsova's Summer Special and Unbound III: Goodbye, Earth, while her poetry appeared in Organic Ink, Vol. 2. She has also had stories published in Planetary Anthologies Luna, Uranus, and Sol. Another story was released in Cirsova Magazine's Summer Issue in 2020, and she recently had a story published in Storyhack Magazine's 7th Issue. Order them today!
Like Caroline's content? Then consider buying her a coffee on Ko-fi to let her know you appreciate her work. 😉