Take a look at this article on crucifixion, readers: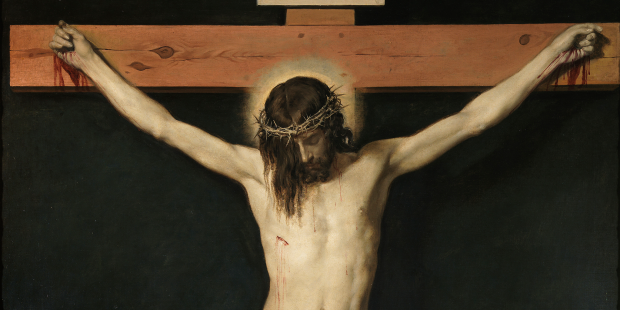 Christ crucifié, Diego Velázquez (détail) © wikimedia commons
Asphyxiation: The main cause of death by crucifixion
J-P Mauro – published on 07/09/20
A new study of the only known remains of a crucified man paints a different picture of the Roman execution method.
In 1968, archaeologist Vassilios Tzaferis excavated the remains of a man who was crucified; it was the first discovery of its kind and a valuable subject for historical study. At the time, analysis of the remains, conducted by Nico Haas of Hebrew University-Hadassah Medical School in Jerusalem, led experts to conclude that actual crucifixion was different than depicted in traditional artistic representations: the arms appeared to have been nailed to a cross beam, but the body seemed to have been in a squatting position, with legs bent and a single nail driven horizontally through both heels at either side of the cross.
Now a new study of the remains by Joseph Zias and Eliezer Sekeles, of the BAS Library, suggests that the initial examination had misidentified several indicators on the remains. The academic article, "Scholars' Corner: New Analysis of the Crucified Man" by Hershel Shanks, explains that the nail that was believed to have been driven through both of the man's heels at either side of the cross was too short to have made it all the way through. This suggests that the Roman crucifixion method required the use of two nails to fasten the heels of the condemned to the vertical beam.