Forgive the Jim Croce* reference, readers, but it was the first thing that sprang to mind. If you have not heard any of his songs yet, I highly recommend checking them out after you read this article. That man could sing!
Enjoy the piece, readers: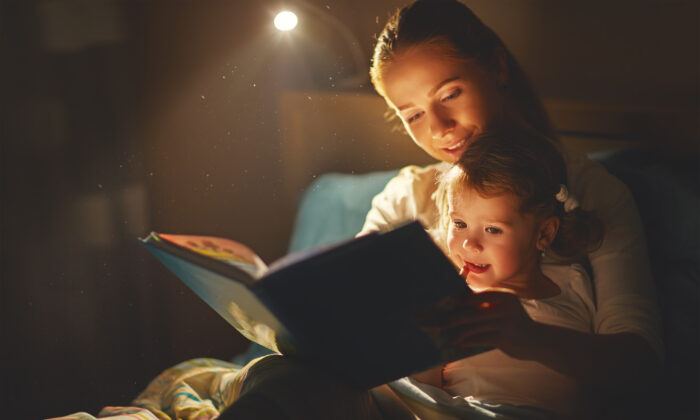 Once Upon a Time: The Importance of Fairy Tales for Children
BY JEFF MINICK
February 26, 2020 Updated: March 28, 2020
I hardly knew my mother's mother, who died when I was in second grade, but to this day, one picture of her face remains vivid in my memory.
Three years before her death, we were in an upstairs room of our house, and Grandma was telling me the story of "Little Red Riding Hood." Her front teeth were large, and protruded a bit, and when she came to the part where Little Red Riding Hood says to the wolf, "What big teeth you have, Grandmother," my grandmother scared the dickens out of me by then roaring, "The better to eat you up with, my dear," and snapping those teeth at me.
Whenever I reach that point in the story, while telling it to my own children and grandchildren, in my mind's eye, I don't see a wolf. I see Grandma.
That's no insult to her. It's very much a tribute both to her storytelling talents and to fairy tales.
From Campfires to Movie Theaters
For untold generations, human beings have swapped stories about fairies and goblins, princesses in distress, witches, spells, animals transformed into people and vice versa. Some folklorists like the Brothers Grimm collected and recorded these tales. Others like Hans Christian Andersen composed their own fairy tales.
*This is an Amazon affiliate link. When you purchase something through it, this author receives a commission from Amazon at no extra charge to you, the buyer. If you liked this article, friend Caroline Furlong on Facebook or follow her here at www.carolinefurlong.wordpress.com. Her stories have been published in Cirsova's Summer Special and Unbound III: Goodbye, Earth, while her poetry appeared in Organic Ink, Vol. 2. She has also had stories published in Planetary Anthologies Luna and Uranus. Another story was released in Cirsova Magazine's Summer Issue. Her most recent piece is available in Planetary Anthology: Sol. Order them today!