Space exploration appears to be gaining popularity around the world these days. While it would have been nice to have never lost interest in the practice, we can at least be glad there is so much renewed attention on the stars.
Learn more about Japan's plans to visit the moons of the Red Planet in the article below, readers. And if you want some ideas on what awaits us in the Solar System, pick up Planetary Anthology: Pluto*, Luna*, Uranus*, Mercury*, and Venus* today. We can't travel to the stars physically yet, but there is no way to keep our imaginations on the ground. To borrow from an Andre Norton title, The Stars Are Ours!*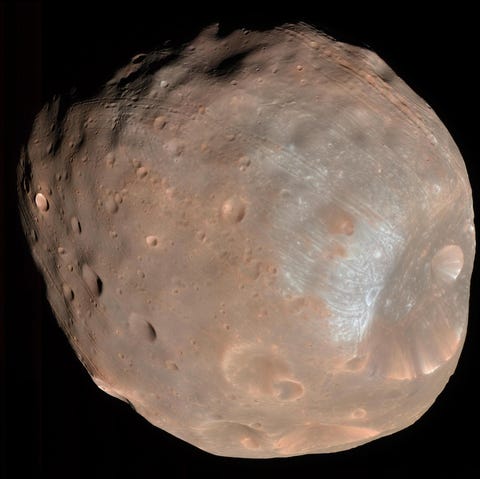 JAXA Is Going To Land on Phobos, the 14th Best Moon in the Solar System
The Japanese agency's sample return mission will explore the origin of Mars' curious moons.
Feb 21, 2020
NASA JET PROPULSION LAB/ CALTECH
Japan Aerospace Exploration Agency (JAXA) announced this week that its green lit a Mars Moon eXploration (MMX) project.
The project will target Mars' two moons Phobos and Deimos and is designed to return samples from Phobos.
It is slated to launch in 2024 and will land on Phobos in 2025.
A Japan Aerospace Exploration Agency mission to visit Mars' moons Phobos and Deimos (the 13th best moon) officially got the green light from the Japanese government. The agency announced on Twitter that its Mars Moons eXploration project would be moving into the development phase.
*These are Amazon affiliate links. When you purchase something through them, this author receives a commission from Amazon at no extra charge to you, the buyer.
If you want some more out-of-this-world fun, pick up Cirsova's 2019 Summer Special. The cover story takes you on a wild ride to an alien planet inhabited by dragons and invaded by aliens. Two human prisoners hold the key to driving the aggressors off Halcyon. But first, they have to remember who they are. Order it today!